*01/25/19 updated by Quad808*
Since V1.6.0.0 NoLimitDronez allows you to NFZ patch your drone, effectively removing DJI's GEO NFZ platform and allowing you to fly wherever you like.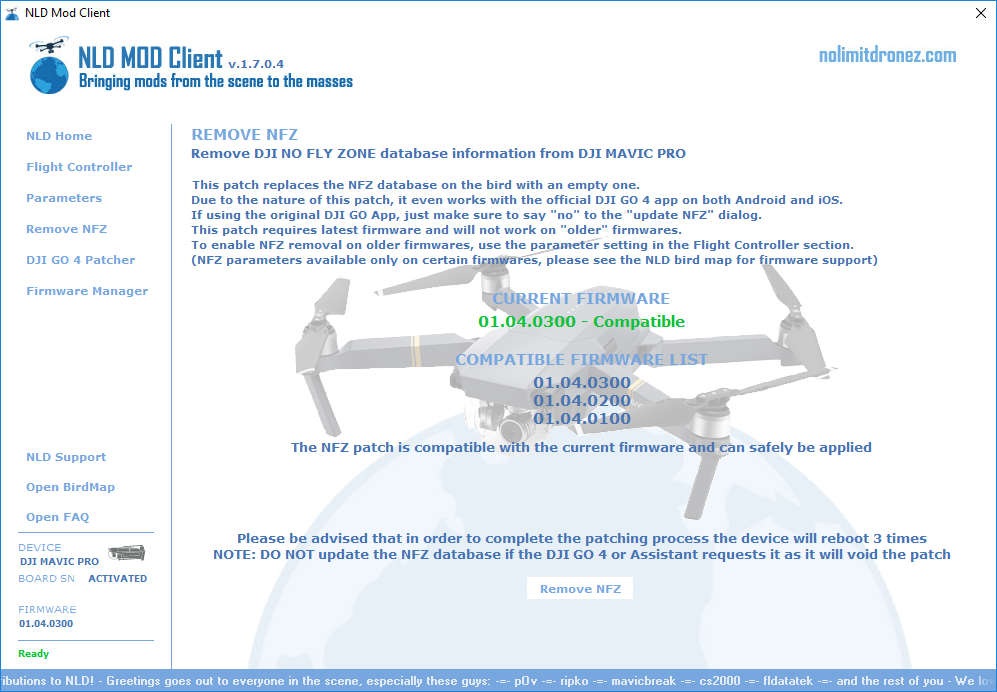 Once you connect your drone to your PC and NLD click the Remove NFZ option from the left menu. If your current firmware is compatible, it will be marked with green text as shown in the image above. Then you can go ahead and click the "Remove NFZ" button. *NOTE* we recommend being on 01.04.0300 for the Mavic Pro/Platinum and 01.00.0900 for the Spark* for best results. Stay on that firmware level. Remember that for best compatibility across all drones is to use NLD GO 4.1.22, since we have removed the NFZ DB info from that GO version. If you use iOS GO (stock) higher than 4.1.3, you will have a NFZ db in it, and that goes for Android Stock GO as well.
Also remember that the drone will not "restart" like normal during this process. It does a "soft" reboot, only restarting the Flight Controller, so you will not hear the start up chimes. If you leave your PC speakers on, you will hear the Drone disconnect and reconnect windows chimes on USB. To check if NFZ has been removed...Sparks will show Precise Fly Safe Database of
01.00.13.37 in the about screen in GO.
If your firmware is not compatible it will be marked with red text and you will have to downgrade to the latest compatible firmware which will be shown underneath Compatible Firmware list.
If it is compatible, just click the Remove NFZ button at the bottom of the screen, wait a while and you're now free from GEO!
*NFZ INFO*
There are two NFZ databases that DJI uses. One is on the drone, and that is handled by this patch to zero out the database. NFZ is still running, but no NFZ zones are on the drone. The other database is in the GO app. This means that even if you remove the NFZ db data using this patch and use STOCK GO, you *may* not be able to fly in a NFZ, since the STOCK GO App NFZ could possibly override. You will need to use NLD GO 4.1.22 (Android) or downgrade your iOS GO to 4.1.3. That version doesn't have a NFZ DB in it, since it is an early version. Here is an excellent video from our friend digdat0 telling you how to do this:
https://www.youtube.com/watch?v=ziP2SBTzDh0
M2 users along with Air users will need to use stock GO, either iOS or Android. We currently don't have a patch-able GO version that supports these birds.
ALWAYS start your bird in this order: RC then Bird, establish connection, then connect device running GO. This will minimize the ability of GO to override the NFZ db on the bird, but may not prevent it.
As a note. NFZ's are
usually
there for a reason. NLD takes no responsibility for what you do with your drone with unlocked NFZ's. Don't be an idiot, stay away from airports, aircraft, people etc etc etc.