To achieve some functions such as Fake Login, FCC transmission power and offline maps, NLD can modify DJI Go4 to create a custom app that we call NLD Go4. This app
ONLY
works on Android phones and not iOS at this time.
IMPORTANT:
For our APK patchier to do its magic it needs a supported and original DJI Go App version. Get it the original files below.
4.1.3:
https://www.apkmirror.com/apk/dji-technology-co-ltd/dji-go-4/dji-go-4-4-1-3-release/dji-go-4-4-1-3-android-apk-download/
4.1.8:
https://www.apkmirror.com/apk/dji-technology-co-ltd/dji-go-4/dji-go-4-4-1-8-release/dji-go-4-for-drones-since-p4-4-1-8-2-android-apk-download/download/
4.1.14: Use this for Sparks using OTG
ttp://www.openpilotlegacy.org/dji.go.v4_4.1.14-1027326-noSecNeo.apk
4.1.22: Best and recommended for all drones
http://www.openpilotlegacy.org/dji.go.v4-4.1.22-3028592-noseceo.apk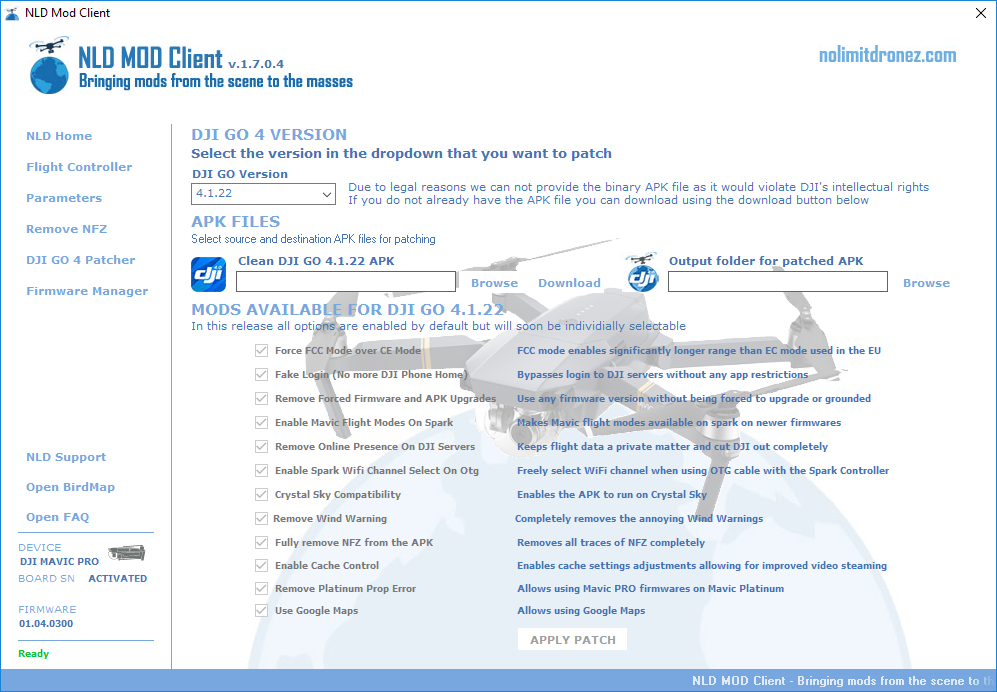 Once you have your version of choice, click the "Browse" button next to the "Clean" apk box and select the original/clean DJ GO app.
Then click the "Browse" button next to the Output folder. This will be where the modded APK file is to be saved after patching is completed.
Click then on "Apply Patch" and sit back and wait for the patch to complete, this should take no more than a couple of minutes.
Lastly for this step, copy then patched apk-file onto your Android device. You can save it in the downloads folder. To install it, first UNINSTALL any GO version you currently have on your device. Go to Apps, delete cache and then delete files or data for the stock GO app, then delete. Make sure any DJI folders left over are deleted, then you can install NLD GO. This ensures a clean install. You may need to use ES File explorer to install .apks...its free in the app store.
Fake Login Notice!
For Fake Login/Login Bypass to actually work you have to close you internet connection before you install NLD GO and get to the login screen.
Choose Flight/Air plane mode and then just login with any junk data. Type something like "a" without the quotes in Username field. Type "b" without the quotes in Password field.
After you login successfully, enter the NLD GO App, make one change, quit the app, restart your device then you can enable your internet connection again and you can download HERE offline maps just like stock GO.
If you want info on getting this APK onto your CrystalSky tablet, please use this link.
https://nolimitdronez.com/boards/topic/4/nld-go4-crystalsky-instructions
*NOTE*
In order for the GO patching to be successful, you must have a solid internet connection to our servers. This means allow NLD through any firewall and anti-virus programs. If the patching procedure "stalls", this means that the connection to our servers has stalled or is being blocked. Keep trying. You will get there. If all fails, see if you can try this from a different computer or different network altogether. 99% of problems with patching is because of NLD servers being blocked by the network or your PC.