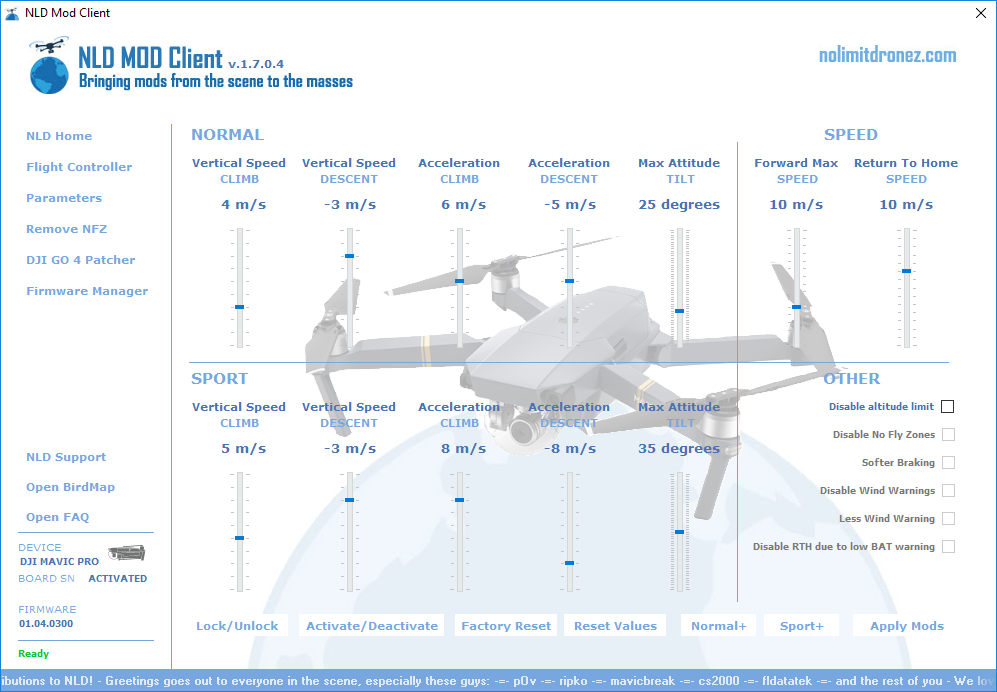 Alter the values by adjusting the sliders in the 4 sections, that are explained below:
NORMAL: Adjust settings for flight in normal mode, this is flying with GPS in the standard non sport setting.
SPEED: Adjust settings for maximum speed. These take effect during Normal mode flight and are responsible for RTH and forward speeds
SPORT: Adjust settings for flight in sport mode.
OTHER: Remove restrictions such as Max Altitude Limit, No Flight Zones, Wind Warnings or remove "Return To Home" function when Low Battery etc.
If you ever get confused or just want your birds original settings back, click "Factory Reset".
If you just want to undone the latest changes you made, click "Reset Values.
If you are in doubt about how to choose you values you can click on "Normal+" button to get some predefined values set to fly a bit faster in normal mode. The same for the "Sport+"-button just in sport-mode
Note that if your DJI model's current firmware does not support a feature it will be greyed out.
When you have enter the desired values hit "Apply mods".